Wir freuen uns sehr auf den März! Irland wird in den Fokus gerückt und wir dürfen nicht nur irische Künstler, die in Österreich ihren Lebensmittelpunkt haben, zeigen, sondern auch österreichische Künstler, die sich mit James Joyce und seinem zur Weltliteratur zählendem Werk "Ulysses" auseinandergesetzt haben.
Aber, wir dürfen nicht nur Arbeiten dieser Künstler in unserer Ausstellung zeigen, sondern auch gemeinsam den St. Patrick's Day am Donnerstag, 17. März, mit einem Fest begehen.
Arbeiten folgender Künstler sind in der Ausstellung vertreten: Tom Phelan, Conan Dynes, Peter Mindek, Jochen Höller und Herwig Prammer
Herzlichen Dank an die Botschaft von Irland in Wien und dem Team von Artivive (Augmented Reality Plattform für Kunst) für ihre Unterstützung!
We are really looking forward to March! Ireland will be in the spotlight and we will not only be able to show Irish artists who call or have called Austria home, but also Austrian artists who have dealt with James Joyce and his work Ulysses, which is part of world literature.
Of course, it would be only polite to raise a glass, or two, to these artists and their work. So, join us on St. Patrick's Day Thursday, 17 March to celebrate 'The Look of the Irish' at ip.forum.
Works by the following artists are included in the exhibition: Tom Phelan, Conan Dynes, Peter Mindek, Jochen Höller and Herwig Prammer.
Many thanks to the Embassy of Ireland in Vienna and the team of Artivive (augmented reality platform for art) for their support!
Curators: Patrick J. Maguire and Gabriele Baumgartner
Graphik: Michael Lenzinger
Anmeldung zum St. Patrick's Day Festival am Donnerstag, 17. März 2022 im ip.forum:
Registration for the St. Patrick's Day Festival on Thursday, 17 March 2022 at ip.forum:
works in the exhibition:
Jochen Höller: works "Ulysses" | James Joyce (part of the exhibition: The look of the Irish)
Working on  the exhibition 😉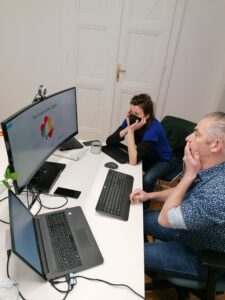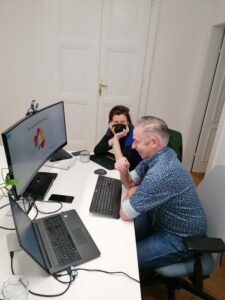 Cross-cultural communication in the ip.forum! Working on The Look of the Irish exhibition, although the look on Gabi's face…#lostintranslation