An seinem 40. Geburtstag – am 2. Februar 1922 – veröffentlichte der irische Schriftsteller James Joyce (1882 – 1941) seinen mittlerweile zur Weltliteratur gehörenden Roman "Ulysses". In Anlehnung an Homers Erzählungen der Irrfahrten des Odysseus (7. / 8. Jahrhundert vor Chr.), schildert James Joyce einen einzigen Tag im Leben seines Protagonisten Leopold Bloom, den 16. Juni 1904. Er berichtet dabei nicht nur von dessen Erlebnisse während er durch die Straßen und Gassen Dublins geht, sondern lässt die Leser auch an den Gedankengängen der Protagonisten des Romans teilhaben.
Stephen Daedalus, Leopold und Molly Bloom sowie Buck Mulligan als die Hauptfiguren des Romans skizzierte Joyce anhand real existierender Personen bzw. seines Ichs. Der Künstler Jochen Höller setzte sich intensiv mit "Ulysses" auseinander und schnitt aus seiner eigenen Ausgabe der Erzählung die Buchstaben der jeweiligen Namen aus und formte anschließend mit diesen Fragmenten die Portraits dieser realen Vorbilder. Somit verknüpft Jochen Höller den Roman mit den lebendigen Vorbildern, indem er ihre Namen aus dem geschriebenen Wort und der Imagination von James Joyce wieder in ein Abbild ihrer Selbst transferiert.
On his 40th birthday – 2 February 1922 – the Irish writer James Joyce (1882 – 1941) published his novel "Ulysses", which has since become part of world literature. Based on Homer's tales of the voyages of Odysseus (7th/8th century B.C.), James Joyce describes a single day in the life of his protagonist Leopold Bloom, 16 June 1904, not only recounting his experiences as he walks through the streets and alleys of Dublin, but also allowing readers to share in the thought processes of the novel's protagonists.
Joyce sketched Stephen Daedalus, Leopold and Molly Bloom as well as Buck Mulligan as the main characters of the novel on the basis of real people or his ego. The artist Jochen Höller dealt intensively with "Ulysses" and cut out the letters of the respective names from his own edition of the story and then used these fragments to form the portraits of these real-life models. In this way, Jochen Höller links the novel with the living role models by transferring their names from the written word and James Joyce's imagination back into an image of themselves.
(Text: Gabriele Baumgartner & PJ Maguire)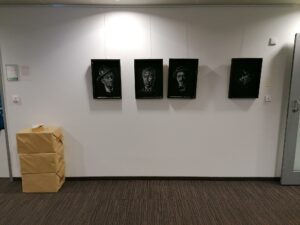 "Nora Barnacle – Molly Bloom", 2022, Collage, paper on cardboard, 50×36 cm
"Leopold Bloom – Ettore Schmitz", 2022, collage, paper on cardboard, 50 x 36cm
"Buck Mulligan – Oliver St.John Gogarty", 2022, collage, paper on cardboard, 50 x 36cm
"James Joyce – Steven Dedalus", 2022, collage, paper on cardboard, 50×36 cm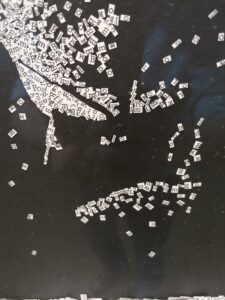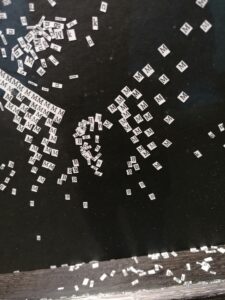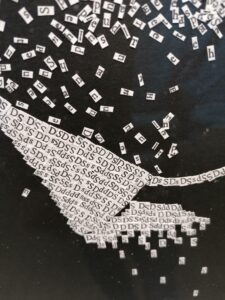 These works are part of the exhibition: The look of the Irish, March 1 – 31, 2022