I wish I was special
But I'm a creep
I'm a weirdo
(Lyrics by Radiohead)
Sabine Duty betitelte ihr Selbstportrait aus dem Jahre 2020, das diesem Beitrag vorangestellt wurde,  mit einer Eigenbezeichnung: "creep". Natürlich erinnert dieser Ausdruck sofort an Textzeilen aus dem Lied "creep" von Radiohead, die aufgrund ihrer weltweiten Resonanz eigentlich bereits in den lyrischen Kanon der Weltliteratur eingegangen sind.
Weshalb sich die Künstlerin aber so bezeichnet, möge auch ihren Bildthemen, die sie in ihrer Malerei verarbeitet, geschuldet sein. Es sind keine konventionellen Sujets, sondern Sabine Duty legt die Finger in die Wunde und zeigt schonungslos Wahrheiten, die den Betrachter / die Betrachterin tief berühren und aufrütteln.
Sabine Duty titled her self-portrait from 2020, which is preceding this post, with a self-description: "Creep". Of course, this expression immediately brings to mind lines of lyrics from the song "creep" by Radiohead, which, due to their worldwide resonance, have actually already entered the lyrical canon of world literature.
Why the artist calls herself this way, however, may also be due to her pictorial themes, which she processes in her painting. These are not conventional subjects, Sabine Duty puts her finger in the wound and shows unsparing truths that touch and shake up the viewer deeply.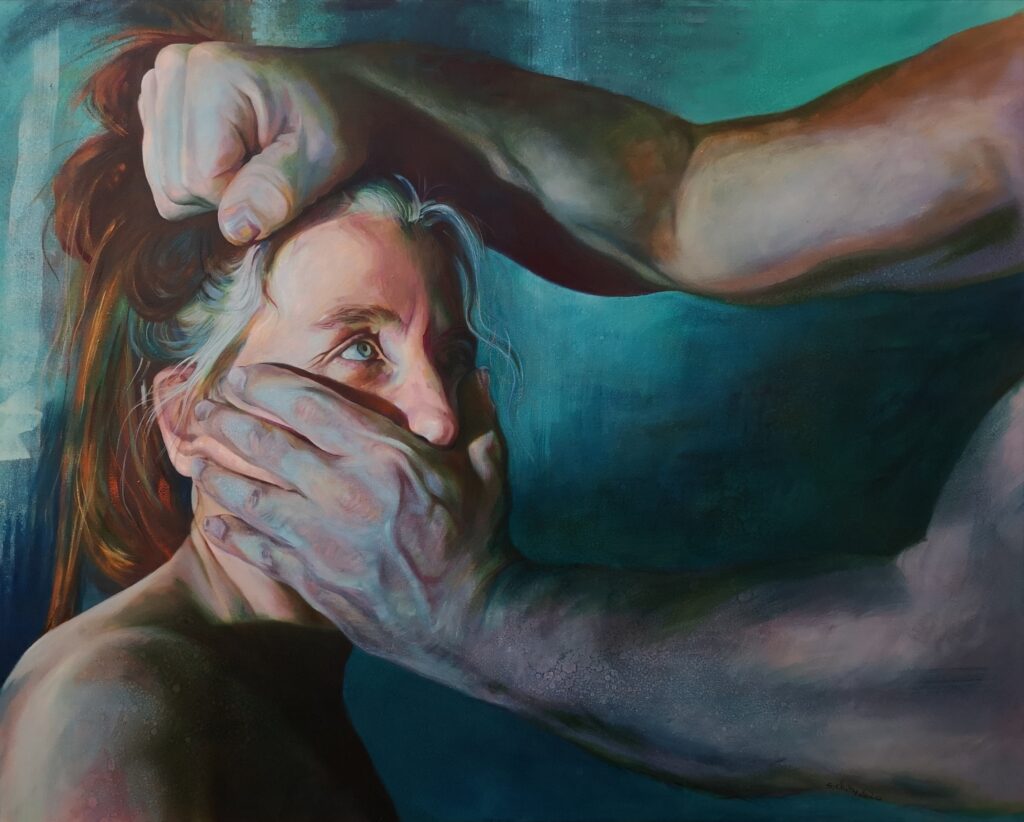 stay home, stay safe, 2020, Öl auf Leinwand | oil on canvas,
Die natürlich in den vergangenen Monaten mantraartig kommunizierten Worte: "Stay home, stay safe" bedeuten aber auch Situationen in den eigenen vier Wänden, die aufgrund der Herausforderung der Zeit zu vielfachen Übergriffen auf Frauen geführt haben und somit keineswegs mit jenen Sicherheitsworten in Einklang zu bringen sind. Für viele Frauen müssen gerade diese Worte ein Hohn sein.
The naturally mantra-like communicated words over the past months, "Stay home, stay safe" also symbolize Situations at home, that due to the challenges of this time lead to multiple attacks on women and thus can not at all be reconciled with those safety words. For many women, these words must be a mockery.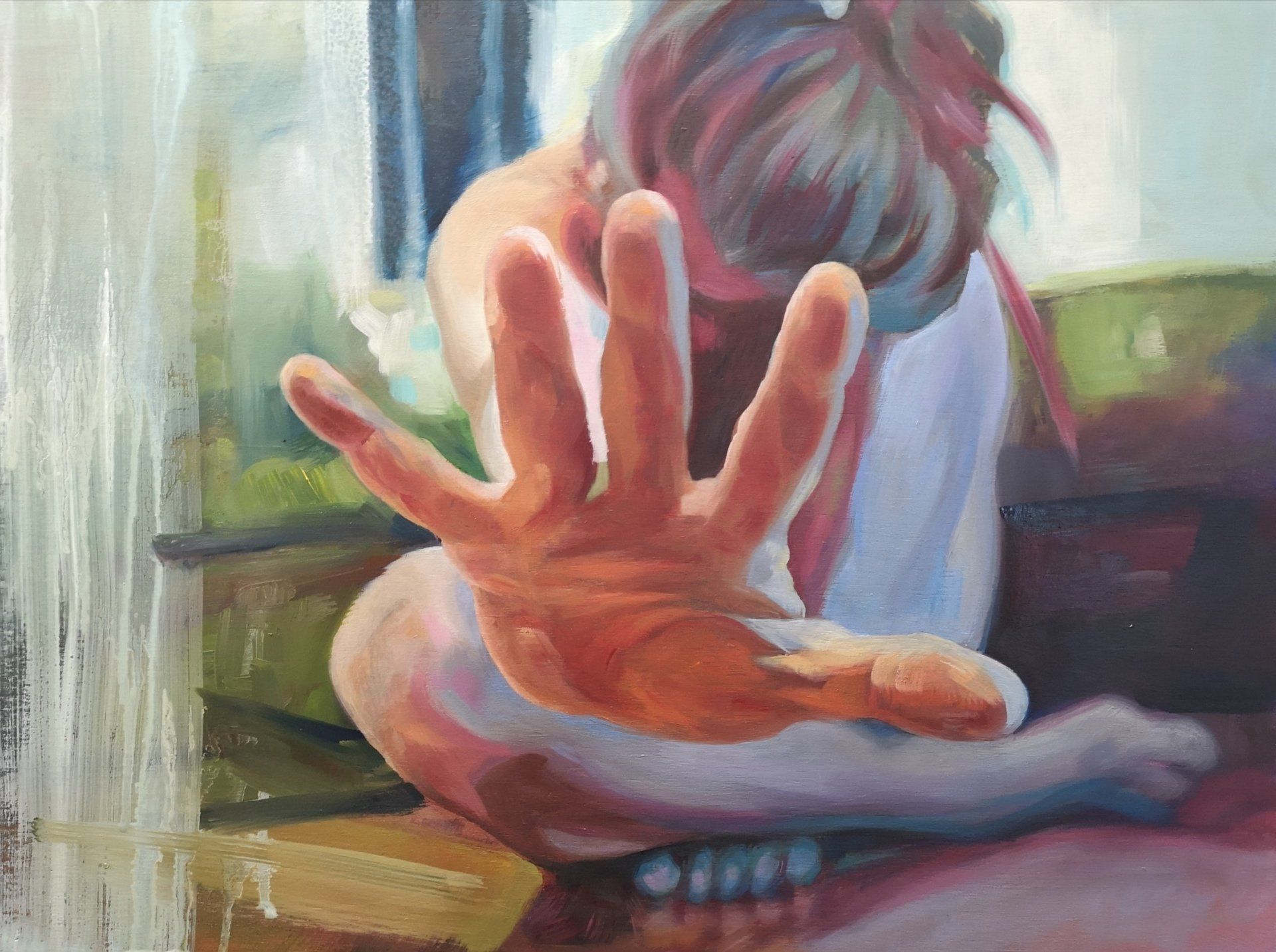 Friendly remember: Keep your distance, 2020, Öl auf Holzkasten | oil on wood, 30 x 40 cm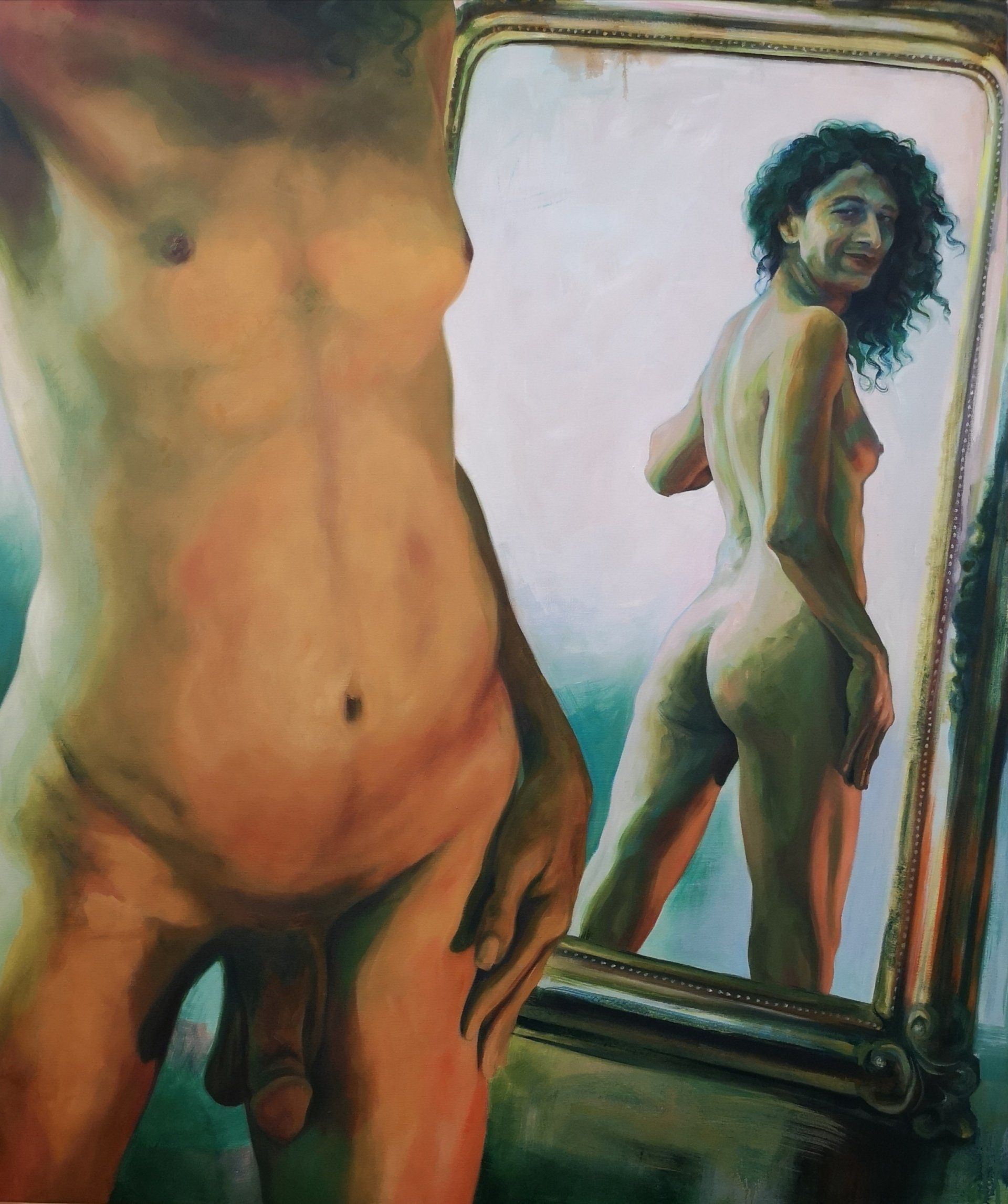 Beautiful muxe, 2020, Öl auf Leinwand | oil on canvas, 100 x 120 cm
Der zufrieden in den Spiegel blickende und sich selbst anlächelnde Mensch würde nach gesellschaftlichen Konventionen gemessen, zu Irritationen anderer Menschen ob seiner Geschlechtszugehörigkeit  führen. Dass Normen aber überwunden werden können und somit einen Mensch glücklich leben lassen können, hat nun endlich die fortschrittliche Klassifizierung eines Menschen als Person des dritten Geschlechts in manchen Landgebieten bedeutet. Der Begriff "muxe" bezeichnet weder männlich oder weiblich, und auch nicht  beiderseits zugehörig, sondern eine neue Kategorie eines menschlichen Geschlechts.
The person contentedly looking into the mirror, smiling at themselves, would, measured by social conventions, lead to irritation of others due to their gender. However, the fact that norms can be overcome and thus allow a person to live happily has finally meant the progressive classification of a human being as a person of the third sex in some areas of the country. The term "muxe" denotes neither male nor female, nor belonging to either side, but a new category of a human gender.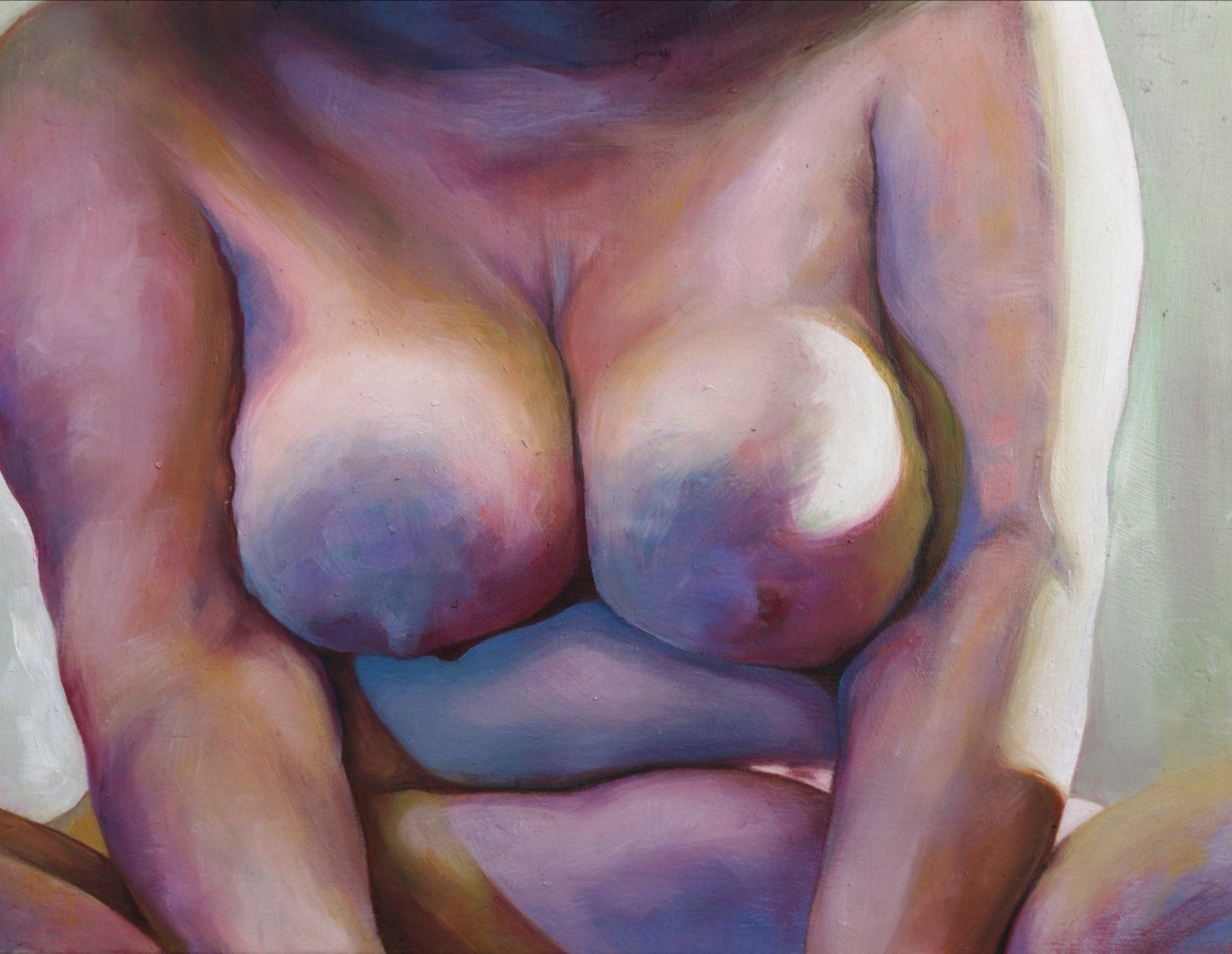 Gaia's best, 2020, Öl auf Holz | oil on wood, 27,7 x 21,4 cm
Wie sehr die Brüste der in der griechischen Mythologie beheimateten, personifizierten Mutter Erde "Gaia", essentiell für die Ernährung eines kleinen Menschen sind, drückt Sabine Duty in ihrem Gemälde wunderbar aus, wenn sie diese in ihrem größten Volumen  schildert und sie zur Betrachtung darreicht. Die Vagina ist der Ursprung des Lebens, aber die Brust ernährt die erste, wichtige Zeit und ein Heranwachsen ohne sie, ist schwer möglich. Die Brust ist ein Synonym für die Mutter Erde, die uns alle ernährt und unser Leben ermöglicht. Ohne sie wäre ein Fortbestehen kaum vorstellbar.
How much the breasts of the personified mother earth "Gaia", native to Greek mythology, are essential for the nourishment of a small human being, Sabine Duty expresses wonderfully in her painting when she depicts them in their greatest volume and presents them for contemplation. The vagina is the origin of life, but the breast nourishes the first, important time and growing up without it, is difficult. The breast is synonymous with Mother Earth, which nourishes us all and makes our life possible. Without it, it would be hard to imagine continuing to exist.
(Text: Gabriele Baumgartner)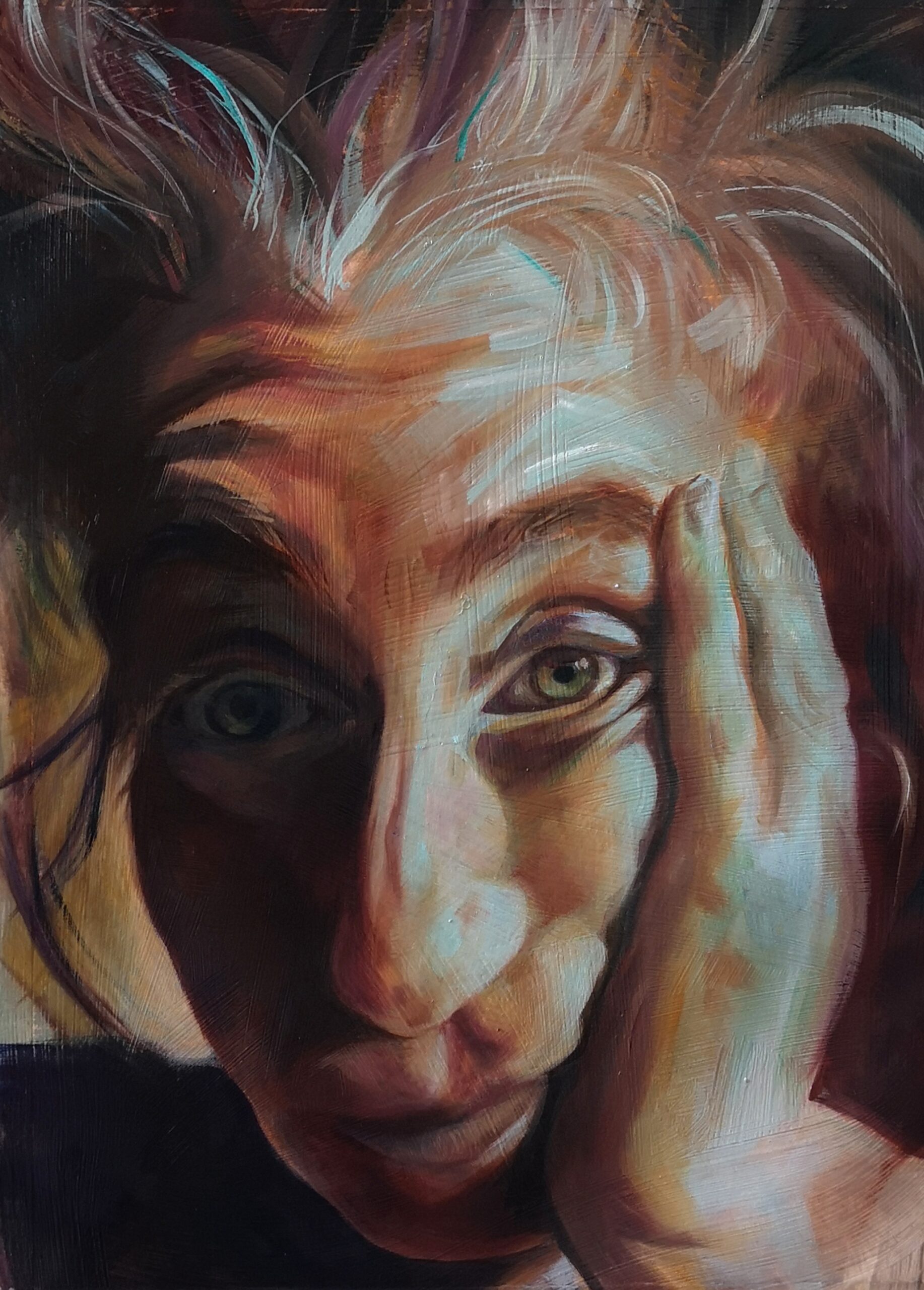 creep, 2020, Öl auf Steinpapier | oil on paper, 21 x 29,7 cm
Sabine Duty: Bin ich schön? (Doris Dörrie) | Am I beautiful?