He said he was an artist
But he really painted billboards
In large capital letters
In large capital letters
Walk to the Water, U2
I used to teach English as a second language to adults. I was always proud of my whiteboard and whiteboard work. Always kept it shiny and clean. Colours were simple, blue, green, red and black. Blue was my main colour for writing. Red was for the past tenses, green for the perfect tenses and black for the future. I loved drawing timelines, the colours painting the grammar rules. Simple complication.
A whiteboard, a whiteboard, my kingdom for a whiteboard!
Then I moved to e-Learning, my whiteboard and 4 colours are gone and replaced by GB, MB, UX, LMS and CSS. To add colour and structure I now need to use code. The style decisions are influenced by 'user experience', 'instructional design principals' and corporate branding. In here is the challenge, the art. Putting all the correct code together to create a webpage, learning platform or digitalize content in an engaging way. Complex simplicity.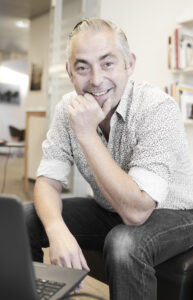 PJ Maguire is an expert in e-learning at ipcenter.
www.ipcenter.at
Foto: Herwig Prammer
PJ Maguire: Teaser | Im Anfang war die Kunst | In the beginning it was art (Augmented Reality)
Exhibition:
Idee: PJ Maguire
Kuration und Organisation: Cornelia Funovich, Charlotte Leschanowsky, PJ Maguire und Gabriele Baumgartner
Grafik Design: Michael Lenzinger
Idea: PJ Maguire
Curation and organisation: Cornelia Funovich, Charlotte Leschanowsky, PJ Maguire and Gabriele Baumgartner
Graphic design: Michael Lenzinger
www.ipcenter.at
www.artivive.com
more posts by PJ Maguire
PJ Maguire: Documentation "Herwig Prammer "42" | Artivive App (Augmented Reality)
Gerd Leschanowsky und PJ Maguire: Das automatische Fräulein | Automated woman (Artivive; AR)