Verspielt geht Federspiel in die nächste Runde und bläst frischen Wind in die Segel des Jugendsymphonieorchesters Niederösterreich. Mit Olivier Tardy, Dirigent der Brandenburger Symphoniker, am Steuer hatte das Orchester ab 2.August 2021 fünf Tage Zeit, mehr als zehn Stücke einzustudieren. Spannend, wie die Band bei den Proben unterstützte, um ihre genresprengenden Meisterwerke zusammenzusetzen.
Was die Pfiffigkeit ihrer Kompositionen angeht, haben sich Zöchbauer, Werner und Alvarado-Dupuy gegenseitig übertroffen. Auch wenn die rhythmische Komplexität der Stücke den jungen OrchestermusikerInnen anfangs noch Kopfzerbrechen bereitete, gingen die kreativen Grooves bald ins Blut. Federspiel unterstützt den Prozess des Zusammenfindens mit viel Humor. Dirigent Tardy schloss mit klarem Dirigat alle Nähte zwischen Orchester und Solisten, sodass ein homogenes Ganzes entstehen kann.
As Federspiel resumes from one orchestra to the next as playfully as usual, Jugendsymphonieorchester Niederösterreich makes a fresh start. With Olivier Tardy, conductor of the Brandenburg Symphonics, on the driving seat, the youth orchestra has five days to prepare more than ten musical pieces. Intriguing it is, watching the band supporting the juniors in the rehearsals to seam their masterpieces together. With their foxy compositions, Zöchbauer, Werner and Alvarado-Dupuy top each other in cunningness Even though at first the rhythmic complexity causes the teenagers a headache, soon the young musicians get the creative grooves into their systems. Federspiel supports the process of getting together with lots of wit. Conductor Tardy merges all gaps in between the soloists and the orchestra, so that a homogenous whole can evolve.
Die Orchestermitglieder (von links nach rechts): Simon Zöchbauer, Philip Haas, Frédéric Alvarado-Dupuy, Ayac Iuan Jiménez Salvador, Thomas Winalek, Matthias Werner, Roland Eitzinger, Fotocredits: (c) MKM Schulen Management NÖ
Von New Yorker Feeling im 15/8-Takt schlängelte man sich durch einen Wasserfall samt Geige spielendem Troll bis nach Niederösterreich, wo das Publikum vor die Wahl zwischen Basstrompete und Zither gestellt wird und plätscherndes Wasser die menschliche Psyche widerspiegelt. Kehliger Gesang rüttelte wach bei Basszus Trombitas und Zithertod, einer kleinen Ermunterung, sich von seinen Zielen nicht durch Fremdkritik abhalten zu lassen: "I tua wås i wü und i tua wås mi gfreit und I scher ma går nix um die tratschatn Leit…"
From New Yorker Feeling in 15/8-meter you come by a waterfall including a fiddle-playing troll and end your journey in the middle of Lower Austria, where you can choose between a bass trumpet and a zither. Raucous-voiced singing sets the audience afire in Basszus Trombitas (Hungarian style) and the rustic Zithertod, encouraging not to let people's judgement come in between you and your targets: "I do what I want, do what I enjoy, and I won't listen to any gossiping boy!
In Spiegelungen (Reflections) water, sometimes dripping, sometimes splashing, mirrors human psyche in different phases.
Schon während der Proben wieselte der Tontechniker durch die Reihen. Auf den ersten Blick hat die Verwendung rein akustischer Instrumente den Anschein eines Rückschritts in die analoge Zeit. Doch der Schein trügt: Feinstes Fingerspitzengefühl ist dabei gefordert, die einzelnen Instrumente genau in dem richtigen Ausmaß zu verstärken und eine ausgewogene Mischung der Klangfarben zu erzielen. Besonders bei dem essenziellen Schlagwerk eine Herausforderung. Stichwort analog: In 15/8 ersetzt das Schlagwerk den analogen Synthesizer der Urfassung (Nachsehen)
During the rehearsals, the sound engineer tiptoes through the rows already. At first sight, the solely acoustic instrumentation suggests a retreat into analogue times. Appearances are often deceptive, though. Indeed, it takes good intuition to amplify the instruments to the right extent to create a well-balanced sound mixture. And it is a particular challenge in case of versatile percussion, which is quintessential for Federspiel's work. Apropos analogue: In the piece 15/8, percussion replaces the analogue synthesizer used in the original setting.
Fotocredit: (c) MKM Schulen Management NÖ
Ehe man sich versah, ist die Zeit zur Vorbereitung verstrichen, am 07. August 2021 brach das erste Konzert an: Eine verkürzte Fassung des Programms als Prélude in Grafenegg. Mit Witz stellt sich Philipp Haas als lebendes Programmheft zur Verfügung. "Vor siebzehn Jahren haben wir, Federspiel, die Band gegründet. Als ich das erzählt habe bekam ich die Antwort: "Wirklich? Da war ich erst eins!" Darauf Haas mit Blick über die Schulter: "Keine Sorge, so etwas kann euch auch einmal passieren"
One blink and the time for preparations is over. On August, 7th, the first of three concerts takes place. It is an abridged version of the programme played as a prélude in Grafenegg. For the moderation, Philip Haas is committed for moderation and guides the audience through the program in an entertaining way. "Seventeen years ago, we, Federspiel, founded the band. When I told the orchestra members, I received an answer like: "For real? Back then I was one year old!". "But don't worry", he then adds, " this is going to happen to you soon enough. "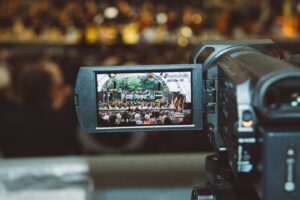 Wer jetzt Lust bekommt, Federspiel beim Surfen zu suchen, dem sei geraten, auf keinen Fall "die melancholische Ballerina" auszulassen – vor allem das Video unter Mitwirkung der Wiener Symphoniker zu Filmszenen von Soyuzmultfilm. Zu Hans Christian Andersens herzzerreißenden Geschichte "Der standhafte Zinnsoldat" komponierte Matthias Werner dieses schaurig-schöne Stück unter Einsatz einer Spieluhr. Um sie "mit der Melodie zu befüllen" stanzte er 633 Löcher in ein vier Meter langes Papier. Angeblich kleben die misslungenen Papierschlangen nun als Tapete an einer Wand.
To anyone whose fingers twitch to look Federspiel up on the internet, I can only recommend not to miss Die melancholische Ballerina (The Melancholic Ballerina) – especially the video in collaboration with the Vienna symphonics linked with filmic scenes of Soyuzmultfilm. With this dolefully beautiful piece featuring a music box, Matthias Werner set to music Hans Christian Andersson's heart-breaking tale of the steadfast tin soldier. To "furnish" the box with the melody, he perforated a 4 meter long paper strip with 633 holes. Today, the miscarried strips are said to be glued to his wall as tapestry.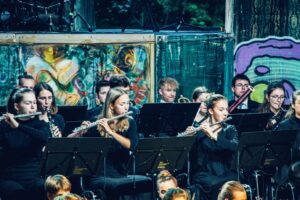 Fotocredit: (c) MKM Schulen Management NÖ
Für das Jugendsinfonieorchester NÖ war das Projekt eine spannende und bildende Erfahrung und was Federspiel betrifft: Dieses Konzert mit "Nachwuchs" ist nicht ihr erstes und wird wohl auch nicht ihr letztes sein.
Diesen Oktober trifft man sie im Wiener Musikverein am 13. November oder am 21. Oktober im Wiener Konzerthaus unter Mitwirkung der Academy Singers mit ihrem Programm Von der langsamen Zeit,. Am zweiten Tag spielen sie eine Version für Kinder. Termine und Programme sind einsehbar auf der Homepage der Band.
For the JSO NÖ, the project was a thrilling as well as an educational experience, and regarding Federspiel: This is not their first collaboration with budding musicians, and it is not going to be their last, either.
This October you can see and hear them with their program Von der langsamen Zeit (Of the Unhurried Time) in the Wiener Musikverein on November13th or the version for children in the Wiener Konzerthaus on November 21st, featuring the Academy Singers.
For additional information and concert dates view their homepage.
Text: Mercedes Frühberger
Dank an Sophie Moser vom Presseteam des mkm, die die Fotos beisteuerte
A warm Thank You to Sophie Moser, who provided the images.