Wie beschreibt man einen Künstler, dessen Talent weitgehend von der Öffentlichkeit verborgen blieb und jetzt erst lange nach seinem Tod zum Vorschein tritt?  Jürgen Spiess wurde am 31. Juli 1937 in Heidelberg (Deutschland) geboren und verstarb am 18. Februar 2014. Er hatte 1978 seine Keramik Werkstatt  gegründet und daher die Malerei in den Hintergrund geschoben. Aber weiterhin war er malerisch tätig. In seinem Nachlass finden sich zahlreiche Werke, die daher weder Titel noch Jahreszahl aufweisen und somit nur von seinem malerischen Talent zeugen, jedoch nicht in einen künstlerischen Entwicklungsweg eingeordnet werden können.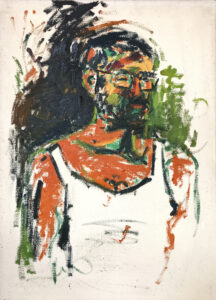 Selbstportrait, 1976 | self portrait, oil on canvas, 105 x 75 cm
How do you describe an artist whose talent has so far remained hidden from the public and which is only now emerging long after his death? Jürgen Spiess was born on July 31, 1937 and died on February 18, 2014. He had founded his ceramics workshop in 1978 and had therefore pushed painting into the background. But he always continued to paint. In his estate there are numerous works, which have neither a title nor a year and thus only testify to his talent as a painter, but cannot be placed conclusively in an artistic development path.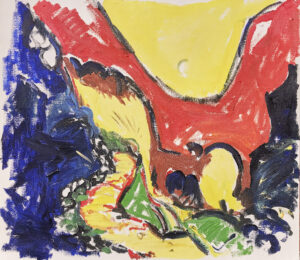 untitled, oil on canvas, 105 x 120 cm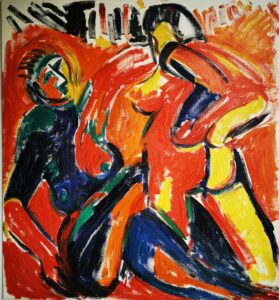 untitled, oil on canvas, 135 x 150 cm
Betrachtet man seine großformatigen Bilder werden die ungemeine Kraft im Farbauftrag, eine  Schnelligkeit sowie trotzdem eine Beherrschtheit, spürbar. Jürgen Spiess konzentrierte sich auf Wesentliches, betonte es mit schwarzer Kontur und zeigte in der Wahl seiner starken Farben auch den momentanen Zustand seiner Wahrnehmung. Mit diesen Arbeiten erinnert Spiess an die Vertreter der Künstlergruppe "Die Brücke", die zwischen 1905 – 1913 gemeinsam in mehreren Arbeitsaufenthalten und in enger Verbundenheit malten und als wichtige Vertreter des Expressionismus gelten. Vor allem in Karl Schmidt-Rottluff und Max Pechsteins Art ein Motiv auf die Leinwand zu setzen, dürfte Jürgen Spiess eine gewisse Inspiration oder Hilfestellung gefunden haben. Natürlich ist die Handschrift eines Künstlers eine Entwicklung seiner eigenen Erfahrungen, Technik und Denkweisen, doch findet sich in jeder Biografie eines Künstlers einen gewissen oder mehrere geistige Mentoren, die die ersten Gehversuche in die Richtung zu einem eigenen Weg, imaginär unterstützen.
A closer look at his large-format paintings reveals the immense power in which he applied paint to a canvas, speed and yet at the same time a restraint are palpable. Jürgen Spiess concentrated on the essential, emphasized it with black contours and also showed the momentary state of his perception in his choice of strong colors. With these works Spiess reminds of the representatives of the artist group "Die Brücke" who painted together between 1905-1913 in several working stays and in close fellowship and are considered important representatives of Expressionism. Especially in Karl Schmidt-Rottluff and Max Pechstein's way of putting a motif on canvas, Jürgen Spiess might have found some inspiration or assistance. Of course, the handwriting of an artist develops out of his own experiences, techniques and ways of thinking, but in every artist's biography you can find one or more spiritual mentors who provide imaginary support for his first attempts at finding his own way.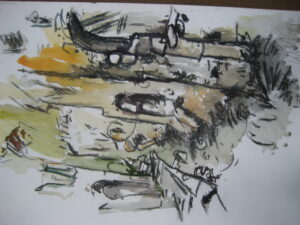 untitled, water colour on paper, 51 x 74 cm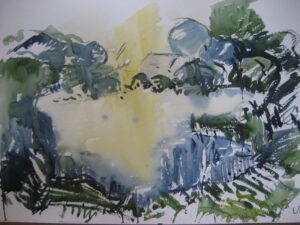 untitled, water colour on paper, 51 x 74 cm
Es finden sich auch Arbeiten, die in ihrer Farbigkeit sehr reduziert, wo viel Fläche des Bildträgers frei bleibt und nur markante Striche das Motiv formen. Der Weg in die Abstraktion ist in solchen Arbeiten nicht mehr von der Hand zu weisen und doch bleibt ein gewisser Grad an Realismus vorhanden.
There are also works that are very reduced in their colorfulness, where much of the surface of the picture carrier remains free and only striking strokes form the motif. In such works, the path to abstraction can no longer be denied and yet a certain degree of realism remains present.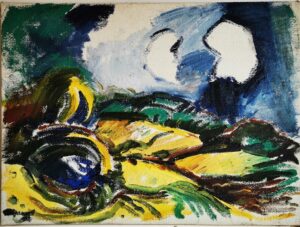 untitled, oil on canvas, 105 x 74 cm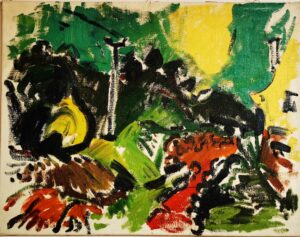 untitled, 1970, oil on canvas, 75 x 100 cm
Da kaum eine seiner Arbeiten eine Datierung aufweist, muss einiges im Verborgenen bleiben. Doch betrachtet man die Werke von Jürgen Spiess, erkennt man sein großes malerisches Vermögen mit Farbe eine Emotion auszudrücken und auch an die Betrachtenden weiter zu vermitteln. Es wird Zeit, dass sein Werk aus dem Dornröschenschlaf erwacht und eine breitere Öffentlichkeit sein Talent sieht.
Since hardly any of his works have a date, some things have to remain hidden. But if you look at the works of Jürgen Spiess, you recognize his great ability as a painter to express an emotion with color and also to convey it to the viewer. It is time that his work awakens from its slumber and that a wider public can see his talent.
(Text: Gabriele Baumgartner)
Biografische Daten | biographical details:
31. Juli 1937 in Heidelberg (Deutschland) geboren |born in Heidelberg (Germany)
1954 Kunstgewerbeschule in Mannheim | school of aplied arts in Mannheim
1958 Ausstellung in Offenburg | exhibition in Offenburg (Germany)
1959 – 1961 Akademie in Paris | Academy in Paris
1959 – 1961 Holzschnittzyklus "existences absurdes", inspiriert von Albert Camus "Der Mythos von Syssyphus" | wood engraving cycle "existences absurdes", inspired by Albert Camus "The myth of Syssyphus"
Ausstellung in Paris | Exhibition in Paris
1962 Umzug nach Darmstadt | Moving to Darmstadt (Germany)
1963 Umzug nach München | Moving to Munich (Germany)
1966 Umzug nach Kiefersfeld | Moving to Kiefersfelden (Germany)
1973 Umzug nach Gars am Inn (Deutschland) | Moving to Gars am Inn (Germany)
2000 Umzug nach Lenti (Ungarn) |Moving to Leni (Hungary)
18. Februar 2014 verstorben in Lenti (Ungarn) | died in Lenti (Hungary)