Am 16. März 1968, heute vor 53 Jahren, hat während des Vietnamkriegs ein Kriegsverbrechen einer US-amerikanischen Truppe im Dorf MY LAI, der Provinz Quang Ngai, stattgefunden.
Die Soldaten, auf der Suche nach dem Vietcong, ermordeten in 2 Stunden 504 Zivilisten (fast alle Bewohner des Dorfes), darunter Frauen, Kinder und alte Menschen. Dieses Gemetzel ist als "MASSAKER VON MY LAI" publik geworden und als Beispiel für das Versagen von Menschlichkeit in die Geschichte eingegangen. Das Pik-Ass verwendeten die amerikanischen Soldaten als todbringendes Symbol, das sie an ihren Opfern zurückließen. Viele amerikanische Soldaten nahmen während ihres Kriegsdienstes in Vietnam Drogen.
Dieses Bild ist dem Gedenken der Opfer von MY LAI gewidmet.
(Text: Christian Höld)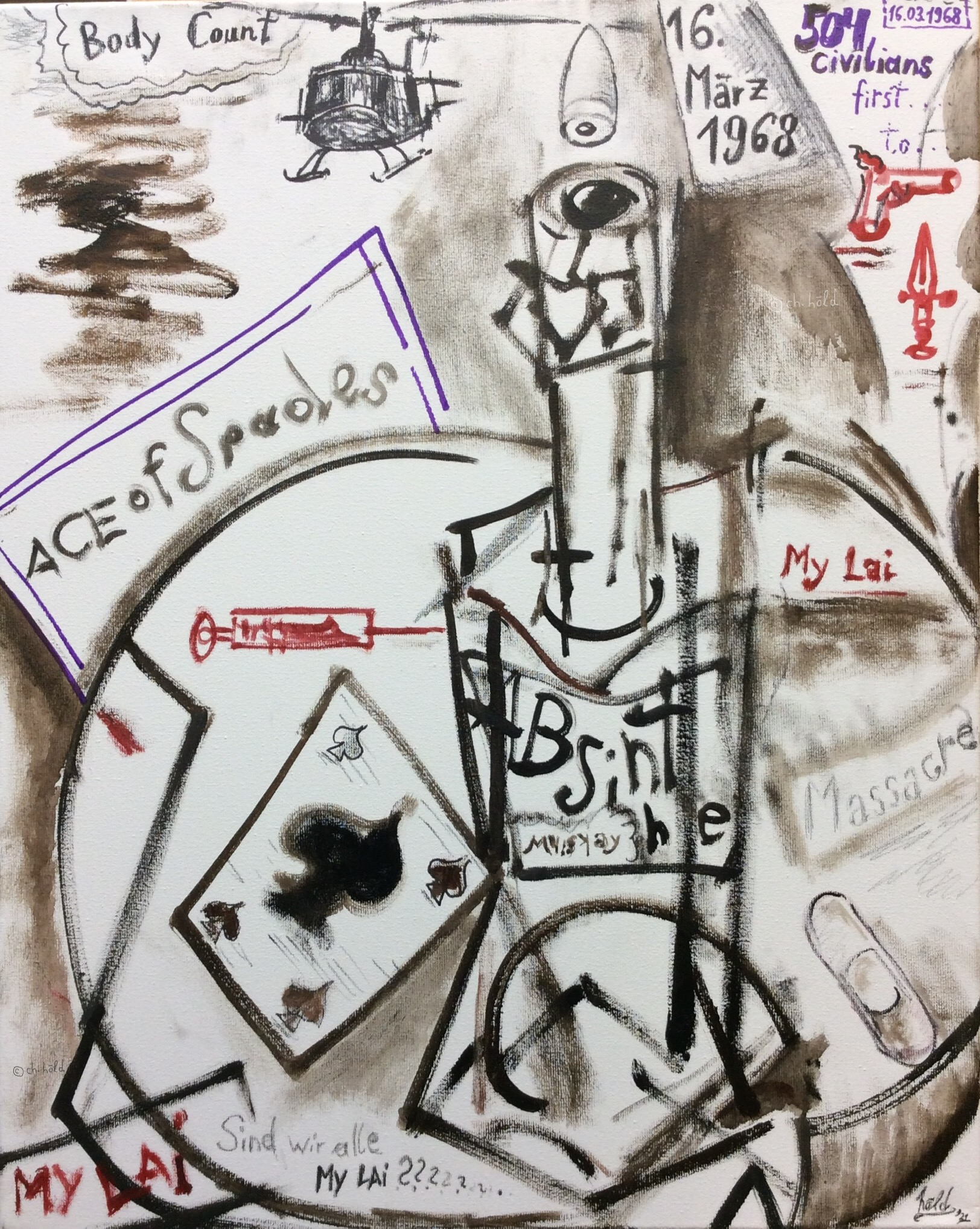 "MY LAI", SIND WIR ALLE "MY LAI" ??, 2021, Öl auf Leinwand, 50x40cm. | MY LAI", ARE WE ALL "MY LAI" ??, 2021, Oil on canvas, 50x40cm.
On March 16, 1968, 53 years ago today, a war crime committed by a US troop in the village of
MY LAI, Quang Ngai Province, during the Vietnam War. The soldiers, looking for the Viet Cong, murdered 504 civilians (almost all residents of the village), including women, children and the elderly, in 2 hours. This slaughter has become publicized as the "MASSACRE OF MY LAI" and has gone down in history as an example of the failure of humanity. American soldiers used the ace of spades as a deadly symbol that they left behind on their victims. Many American soldiers used drugs during their military service in Vietnam.
This picture is dedicated to the memory of the Victims of MY LAI.
(Text: Christian Höld)